William Shakespeare (26 April 1564 – 23 April 1616)
William Shakespeare was an English playwright, poet, and actor, widely regarded as the greatest writer in the English language and the world's greatest dramatist.
Shakespeare's writings capture the range of human emotion and conflict and have been celebrated for more than 400 years. His extant works includes 39 plays, 154 sonnets, three long narrative poems and a few other verses.
Shakespeare also had a huge impact on modern-day English. At the time he was writing, in the 16th and 17th centuries, the English language was going through a lot of changes. He originated many new phrases like 'break the ice', 'all our yesterdays', 'faint-hearted' and 'love is blind'.
Until about 1608, he wrote mainly tragedies, among them Hamlet, Othello, King Lear, and Macbeth, all considered to be among the finest works in the English language. Shakespeare's influence on art, literature, language and the vast array of the creative arts has long been known and documented.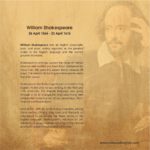 3